Education
Our challenge
Education funding is plummeting
Budget increases have not kept up with the student population
31%
Per student higher ed funding has dropped by 31% since 2001 [1]
1993
K-12 education funding formula hasn't been updated since 1993 [2]
$2B
Our public schools are being short-changed by over $2 billion [3]
48th
MA has one of the worst achievement gaps in the country, ranking 48th place [4]
Our choice
Bill to Fix Funding can't pass the House [5]
The Foundation Budget Review Committee (FBRC) released a report in Oct 2015 with what needed to be fixed. Although it passed unanimously in Senate, the House has failed to act to fund our schools, for the past 3 years.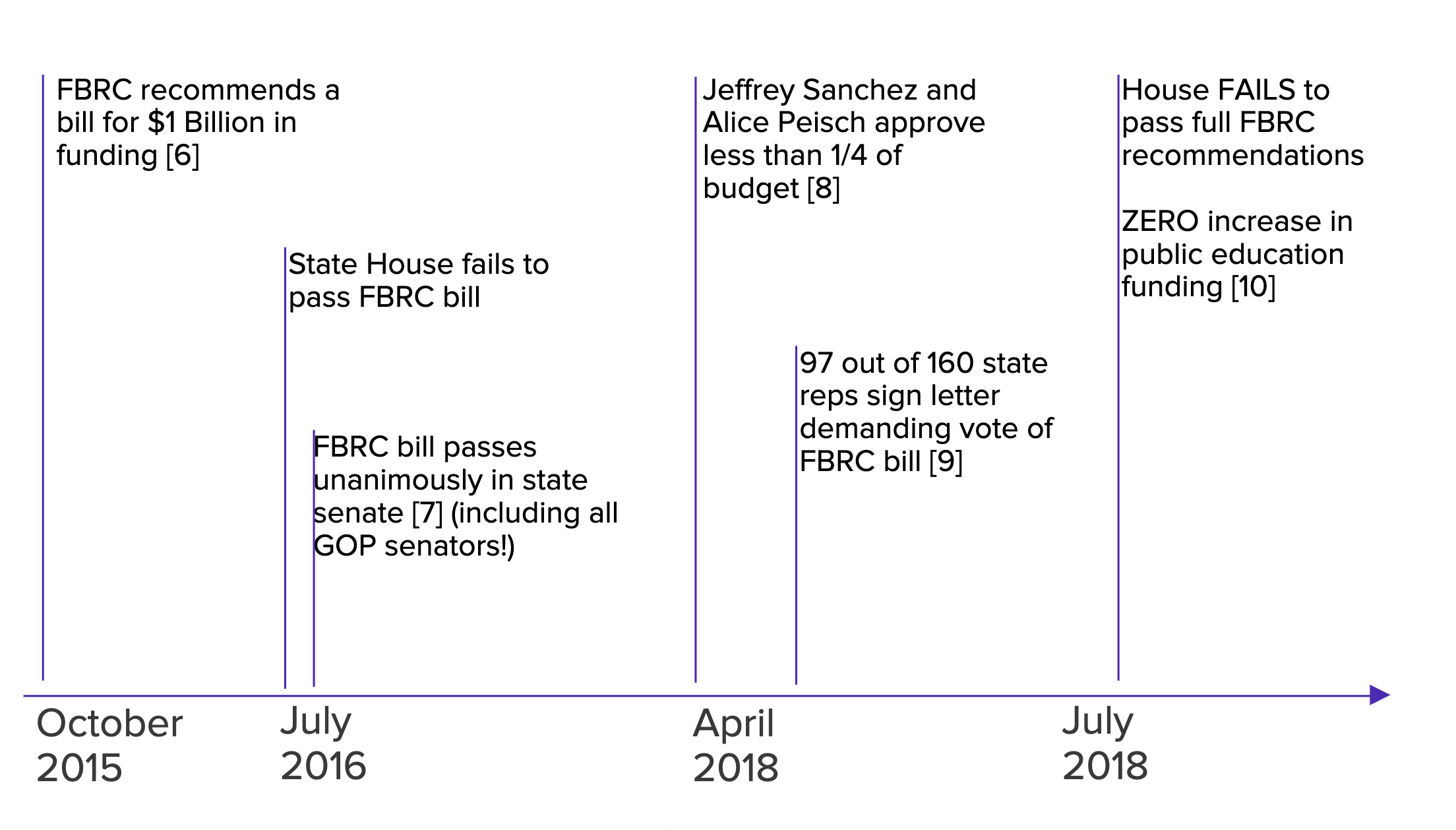 Our power
What can you do?
Call your representative
Commit to calling your state rep, we will contact you when your voice is needed most.
Join our phone bank
Call voters who live in districts with state reps who still don't support this bill.
Knock on doors
Engage voters at the door step about this issue and many more.
Common questions
Don't we already spend a lot of money on public education?
Public school funding comes primarily from two places: the state, and the city/town school district. The state consistently underfunds all public schools, but wealthier cities and towns use their own funds to make up the difference between the "foundation budget" and the actual cost of giving students a quality education. This practice perpetuates inequalities, as wealthier districts can afford to put extra money into their schools, while schools in poorer districts are severely underfunded. The state's wealthiest school districts spend over 40% more per student than the state's poorest school districts.
Further reading: MassBudget: Building an Education System that Works for Everyone
Can't public schools use funding more efficiently?
It is a myth that public schools cannot use funding efficiently. In fact, many public schools have been increasing class sizes in an effort to save money, and many public school teachers have to buy their own supplies.
The Foundation Budget Review Commission ("FBRC") has already researched what a reasonable budget would be for a public school. The FBRC was a bipartisan group; their findings should not have been controversial. The problem is not a lack of research; the problem is a lack of political will on Beacon Hill to fund education.
Learn more
References